Currently viewing the category: "Health & Beauty"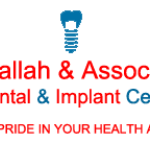 The Centre was established in 1990 by Dr. Fuwad Abdallah, B.D.S. (NBI), C.A.G.S. , M.S.D. , F.A.A.P. (U.S.A), F.I.C.D. , a Dental Surgeon, Consultant Periodontal Surgeon (Specialist in gum diseases) and Implantologist. The clinic has since grown in leaps and bounds and has become known for its excellent dental and implant services, efficiency and professionalism. Due to its tremendous expansion and as part of our growth strategy, other general dentists have been incorporated as we aspire to reach greater heights in future.
We offer a wide range of specialized dental services, these include Restorative Dentistry (Fillings and Root canal treatment), Cosmetic Dentistry (Teeth whitening, Veneers, Crowns and Bridges), Dental Implants, Treatment of gum diseases (Bad breath, Loose and sensitive teeth, Gum recession etc.), Children's Dentistry and Braces, Replacement of missing teeth and Minor oral surgeries.
"WE TAKE PRIDE IN YOUR HEALTH AND SMILE"
Continue Reading

→
Services

Shops & Services

Business Directory

Categories

Error, no Ad ID set! Check your syntax!

categories